Zeducorp is a professional consulting firm which was founded in 1983 to provide custom software design and development services for IBM and Zenith personal computers. During the 1980s, we developed a range of commercial software and relational database applications. Our current expertise includes website design and development as well as digital arts and illustration. Our skill set includes HTML, Javascript, mySQL, and PHP plus web graphics software including Adobe Photoshop and Adobe Illustrator. Our work samples include this beautiful roses informational website, this photo album pictorial site, and this wedding flower design and selection guide.

Prior to founding Zeducorp, Steve was a senior project analyst at Exxon Corporation's CCS Department in Florham Park, New Jersey, where he:
developed PROMS, a program management system that enabled PL/I and FORTRAN programs to call each other dynamically and share files in IBM System/360 OS environments.
developed PSTAIDS, a computer-assisted software engineering (CASE) program that facilitated the use of the JSP method for procedural application development.
researched emerging microcomputer technology and markets, encouraging IBM — in the late 1970s — to develop an open-architecture microcomputer that utilized an Intel microprocessor along with software from Digital Research, Microsoft, and Visicorp.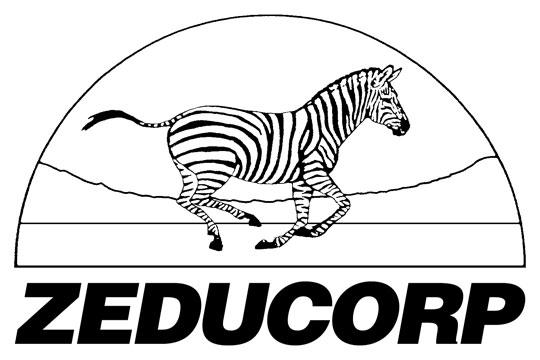 Black and White Zeducorp Logo - 1986
For samples of work done by our colleagues, please visit Leah's and Heidi's portfolios.